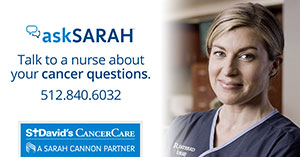 St. David's CancerCare is a coordinated and comprehensive approach to providing cancer services in Central Texas. St. David's CancerCare is a partnership between St. David's HealthCare and Sarah Cannon and is designed to provide integrated oncology care for patients within St. David's HealthCare facilities. Sarah Cannon is the global cancer enterprise of HCA (Hospital Corporation of America) which facilitates a full range of physician-led, patient-centric integrated cancer care services in local markets and offers the highest level of quality standards, infrastructure, training and research for patients with cancer treated within affiliated partner facilities.
As part of St. David's CancerCare, the oncology floor at St. David's South Austin Medical Center includes 24 patient beds dedicated to the specialized care of cancer patients; a surgical oncology unit with universal beds, which will allow patients to stay in the same room from post-surgery to discharge; and a general oncology unit.
St. David's South Austin Medical Center recently opened the area's only bone marrow transplant program featuring the Sarah Cannon Blood Cancer Center for patients with blood cancers. Now patients facing blood cancer are able to receive exceptional, comprehensive care close to home.
---
Are you at risk? Prevent & protect.
St. David's HealthCare Help Center
Find a doctor and make an appointment
Answer healthcare questions
Register for classes & events
Call (888) 868-2104